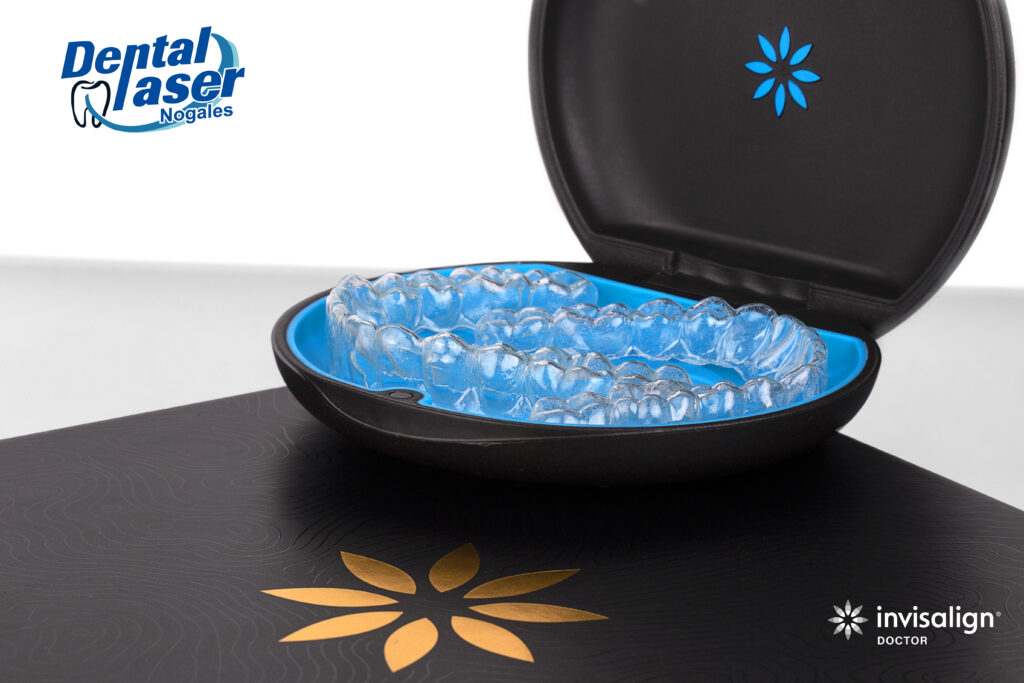 Invisalign Treatment for Arizona, in Mexico
On average, the starting point for Invisalign treatment in Arizona is about $6,500 and goes up from there.  Arizona has a 5.6% sales tax that you'll see added to your final costs as well.  As we're 1 hour from Tucson, many Southern Arizona residents choose the short drive to the border and Mexico for their orthodontic and dental care, which is much less expensive than in Arizona. Our premiere state-of-the-art dental clinic has been serving Southern Arizona residents for 25+ years and has become recognized as the leading dental practice for all of dental tourism in Nogales, Mexico.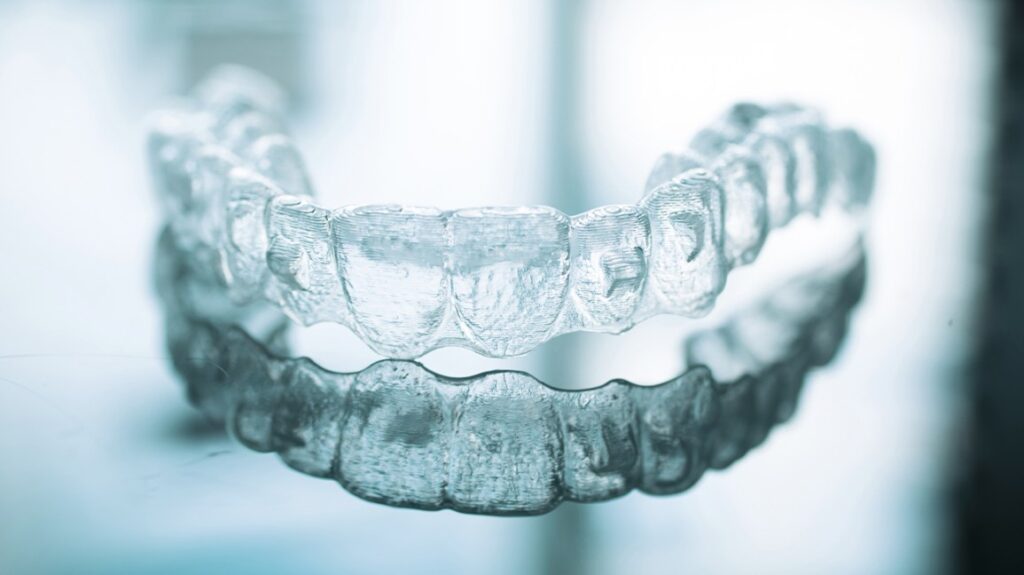 For over 20 years Invisalign has dramatically transformed and improved the options for orthodontic dental care.  Invisalign is a virtually clear method of straightening your teeth and creating beautiful smiles that's virtually invisible and an alternative to traditional braces.  Invisalign uses a series of clear plastic aligners that are custom-made, fitting over and around your teeth enabling the movement of your teeth to their ideal position gradually and discretely.   While worn, Invisalign aligners are barely noticeable but still provide effective treatment with predictable, long-lasting results.  In some situations Invisalign can even be more effective than traditional braces, due to the all-around force across the whole tooth of the aligners.  Invisalign can fix most problems for people that have an underbite, overbite,  open bite, crossbite, or gappy, crowded, or crooked teeth.
Invisalign aligners are digitally designed by our Invisalign expert dentist from 3D scans of your teeth, made of a unique thermoplastic material called SmartTrack, and customized in a laboratory. The material does not contain BPA, BPS, Latex or Gluten and is FDA-approved.  Our experienced and knowledgeable dentists will create a personalized design profile for you and your treatment plan that will cater to your specific smile goals, needs and budget.  At Dental Laser Nogales we use proper planning and smile design to achieve a customized result, you will love!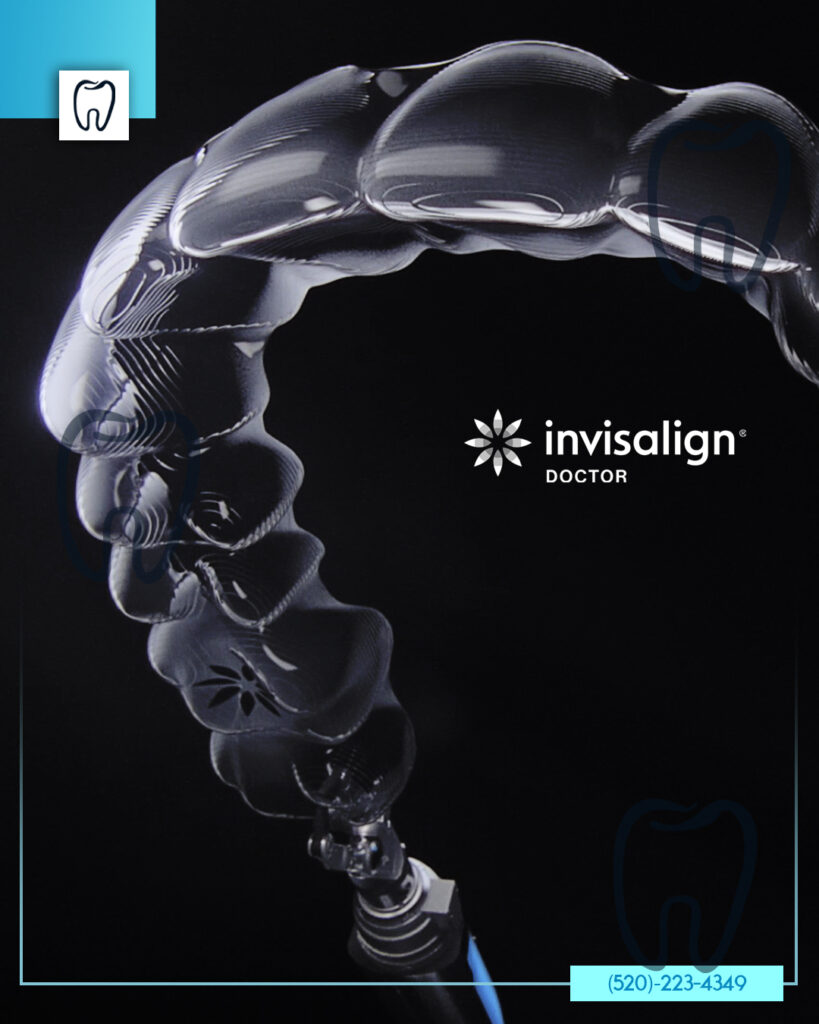 An added benefit of Invisalign is the ability to preview the movements of your teeth throughout the course of your treatment including the final result – all before the start of your treatment and all through the use of 3D video technology. No wires, no metal brackets and no constant tightening needed. You may even be able to notice a straighter smile as quickly as six weeks!
Invisalign is Easy to Clean & Eat Anything!
For Invisalign to be effective you need to wear the aligners  22 hours a day.   However this allows you to remove the Invisalign aligners to enjoy meals, at which time you can eat whatever you like.   You can enjoy all the foods those wearing metal braces cannot –  without any consequences – providing the brushing of your teeth and rinsing of your aligners takes place promptly prior to returning your Invisalign aligners back into place after your meal.  Invisalign aligners clean easily by soaking them in a cleaning solution, or scrubbing them gently with a standard toothbrush.  Simple removal of Invisalign aligners allows you to  brush your teeth, use mouthwash, and keep your teeth clean  throughout the course of your  treatment.   This simple and easy home care of Invisalign reduces  the chances of gum infection along with dental decay, promoting improved oral health and improved overall health.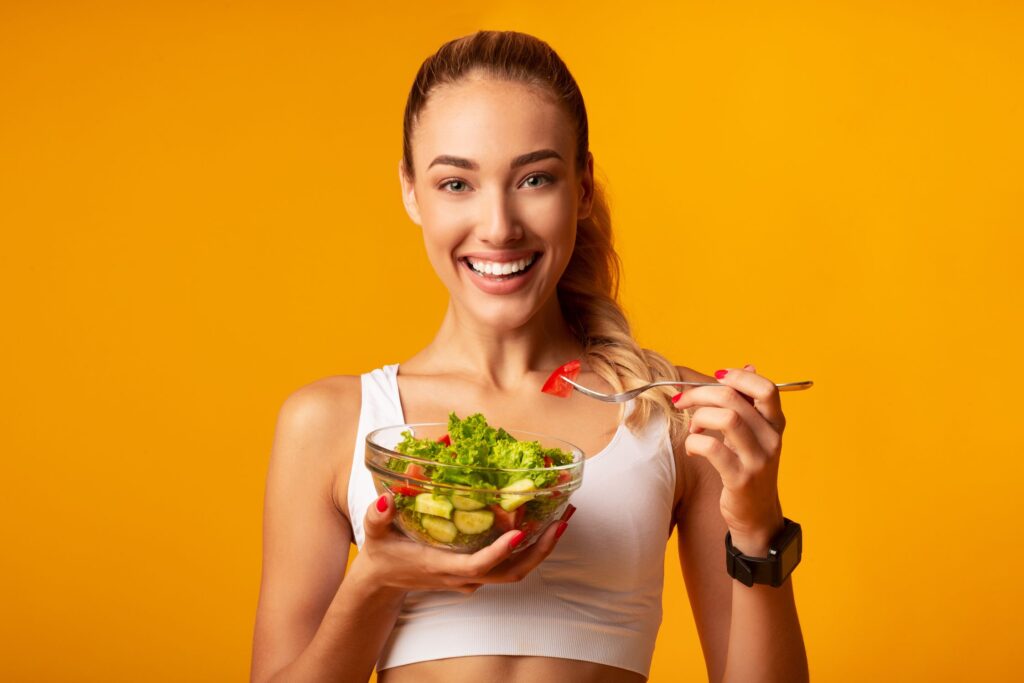 Invisalign Aligners are Comfortable
Invisalign aligners are made of a unique thermoplastic material called SmartTrack, a multilayer polyurethane plastic resin designed specifically to align teeth. It is safe to use, FDA-approved, and effective for precision movement of teeth, along with being very comfortable. We custom design your aligners, based on your unique diagnosis, to fit precisely around your teeth. Each set of aligners is created with precision to advance your treatment, while maintaining a seamless fit comfortably against and around your teeth. Patients love the comfort factor that comes with Invisalign.
Invisalign Aligners Maintain Professionalism in the Workplace
Prior to Invisalign, many adults lived with smiles they did not like and made them unhappy, because they didn't believe they could wear metal braces while also maintaining their professional look at their workplace. The discreet appearance of Invisalign aligners being clear, subtle, and nearly invisible has made orthodontic treatment largely unnoticeable for career professionals (who don't want the look of braces).
Invisalign Requires Fewer Office Visits
Invisalign treatment involves wearing a series of your custom aligners in sequence; each set of aligners worn for a term of 2 weeks, and then replaced for the next set of aligners in the series. We will provide you with numerous sets of aligners in advance, enabling you to maintain your treatment program at your home, visiting us only every 3 months or so to examine your progress and receive your next sets of Invisalign aligners.
Invisalign Work Fast!
While the time length of your Invisalign treatment will depend on the severity of the misalignment, other details and your goals, Invisalign is generally faster than orthodontic treatments. This is because Invisalign aligners apply force all-around your teeth, as opposed to a focused individual spot tooth movement with traditional metal braces. This all-around force on all your teeth can provide faster overall movement, resulting in a speedier treatment to correct your smile. Most Invisalign treatments can be completed in the 12-18 month range, with mild cases requiring only about 6 months of treatment.
Invisalign Costs in Mexico
The cost of Invisalign treatments vary depending on several factors such as how complex the work is going to be (severity of misalignment), will there be additional dental work that is required prior to starting the Invisalign treatment?, and the length of the treatment. It helps that the Align Technology manufacturing plant that produces 200,000 unique Invisalign aligners every day is in fact in Mexico. While we will need to speak to you to understand your exact situation and goals to give you an approximate price range, we can assure you the cost of operating a state of the art dental clinic is considerably less in Nogales, Mexico than in Arizona. It's worth noting Laser Dental Nogales features numerous highly trained dentists, orthodontists, and support staff, expertly trained and experienced and we offer Invisalign treatment at a significantly discounted rate from the costs in the United States. Contact us to learn about savings, offers, and seasonal promotions with respect to Invisalign treatment.
Invisalign v. Braces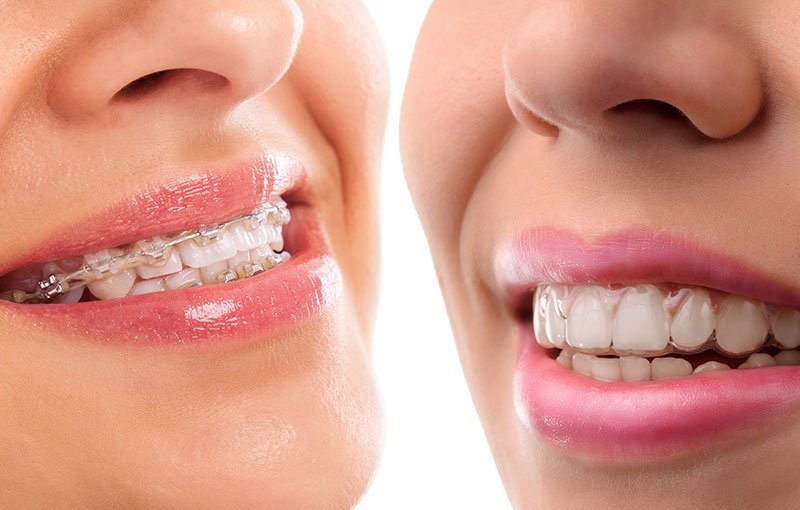 Braces are needed for people with very large spacing problems, extreme deep bites, and bites needing large root movements (extractions). However most patients can be treated effectively with Invisalign. Invisalign is different from the metal braces and offers significant advantages.
Invisalign is made of a plastic material called SmartTrack and the Invisalign aligner is not even noticed by many people. Metal braces are quite visible when you open your mouth.
The aligners can also serve as excellent teeth whitening trays. You can apply a teeth whitening gel to the insides of your Invisalign aligners and wear them when you sleep in a simple whitening treatment overnight.
The Invisalign aligner is removable making it easy to floss, brush and perform any desired oral care. The Invisalign removable aligner also means your food choices are not restricted. For example, people wearing metal braces are commonly advised to stay away from chewy (bagels) , sticky (candies), crunchy (popcorn), hard (nuts), or foods needing biting into (corn on the cob).
Braces, as opposed to Invisalign, commonly require more dental office visits since adjustments are required frequently throughout the treatment, and emergencies crop up like a poking wire. Also, treatments with metal braces commonly require one or more teeth to be removed when the teeth are crowded; and this is not required with Invisalign.
Veneers can give the appearance of straight teeth, but they do nothing to correct the functional problems of crooked, crowded or widely spaced teeth.
Since Invisalign is smooth plastic, it doesn't rub on the tongue or gums, or cause sore spots. Invisalign aligners are also not likely to alter your speech as traditional braces commonly do.
Invisalign v. Braces Chart
| | | |
| --- | --- | --- |
| | Braces | Invisalign |
| Treatment Length | 1-3 years, depending on individual case | 6 months to 2 years, depending on individual case |
| Removable? | No | Yes |
| Cleaning | Regular brushing and flossing with specialized floss threader, routine dentist visits | Regular brushing and flossing, brushing and soaking aligners, routine dental visits. |
| Maintenance | Regular cleaning and orthodontic visits, avoid certain foods. | Wear 22 hours a day, remove for meals, clean thoroughly before putting back in. Soak aligners regularly. |
| Orthodontist Visits | Every month – every other month | Every 3 months; begin new set of aligners every 2 weeks. |
| | | |
| | | |
| Benefits of Treatment Type | Effective for very severe or complex casesLess expensivePermanent bonding means consistent progressColorful rubber bands Multiple braces types Time-tested reliability | Discreet, nearly-invisible look Removable aligners easy to care for No food restrictions Professional look for working adults Comfortable and easy to wearWhiten teeth during treatment |
| Downsides of Treatment | Noticeable metal appliance Food restrictions Can trap bacteria Can be uncomfortable/cause irritation in mouthMay be difficult to clean | Must remember to wear aligners 22 hours a dayMore expensiveMust remove before eating/drinking anything but water Aligners can stain or discolorMore easily broken, damaged, or lost May require supplemental braces treatment for complex cases |
| Ideal Treatment For | Kids and teenagers; budget consumers | Adults or responsible teenagers, working professionals |