Dental Implants for Arizona in Mexico
Located about a 1 hour drive from Tucson, Arizona, Dental Laser in Nogales, Mexico offers residents in Arizona world class dental implant installation at our state-of-the-art facility – at a substantial cost saving from the costs of dentistry in the U.S. Our premiere practice has been serving Arizona for over 25 years and has become recognized as the leading dental practice for all of dental tourism in Nogales, Mexico.
Dental implants can be described as artificial "tooth roots" that support a dental restoration for a tooth (or teeth) that are missing, while also helping prevent jaw bone loss. Often those of us with lost teeth feel self-conscious to talk or smile, and some even experience negative effects on eating practices, creating secondary nutrition issues.
Replacing missing tooth roots with dental implants enables people with the ability to eat and enjoy the foods they love, without the struggle chewing otherwise can be. The additional benefit is dental implants are helpful in stimulating and maintaining jaw bone, reducing and even preventing bone loss, and helping to uphold facial features.
Teeth are commonly lost due to:
Root canal failure
Tooth decay
Trauma to the mouth (tooth injury)
Gum disease (Periodontitis)
Congenital defects
Excessive wear and tear
Dental Implant Consultation
To determine if dental implants are right for you we will thoroughly examine your teeth and gums to assess bone density and quantity. This often includes X-rays and CT scans (computer tomography) to verify sufficient bone structure is in place for placing the dental implant(s), and where precisely the dental implants should be placed.
Based on the findings of our comprehensive oral assessment we will brief you on the most appropriate treatment plan. Be mindful people that lack a sufficient amount of bone or gum tissue may need to have bone or soft tissue grafts and/or possibly the application of small diameter dental implants sometimes referred to as "mini implants". We'll go over the time length of the treatment process, the number of appointments necessary, and what you can expect, the outcome after each procedure.
Before Dental Implant Treatment
Any pre-existing oral health matters should first be resolved prior to implantation being considered. Gum disease, tooth decay, and other issues can make treatment less effective. Also and for example, for those who smoke it's a good idea to quit. as smokers face a higher risk of failure of the dental implant process than non-smokers. Smoking can affect something called "osseointegration", which is how a dental implant anchors itself to the jaw bone.
An osseointegrated implant needs anywhere from 6 weeks to 6 months to properly anchor and heal. Once heeled, we can complete the process and place a crown, bridge or hybrid denture restoration to the anchor. Our
consultation will include everything you will need to know to ensure a successful dental implantation outcome.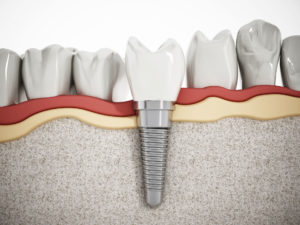 What Are The Different Types Of Dental Implants?
When it comes to the different types of dental implants some may refer to the material, the coating, positioning, brands or the overall process. In this explanation, we will go over each of those differences so that you may have a better understanding in your overall options. It's good to be prepared!
Different Types
Single Tooth Implant: A single tooth implant is used when only one tooth needs to be replaced. The dental implant requires one post and one crown.
Implant Supported Bridge: When you need to replace multiple missing teeth that are right next to each other, your best option is an implant-supported bridge.
Implant Retained Denture: If you happen to be missing a majority or maybe even all of your teeth in the upper or lower part of your mouth, then an implant-retained denture will be your best option.
Different Materials
Titanium: Titanium Implants have been around for a long time and have been time-tested to be a successful, long lasting option for those in need of dental implants. Titanium material is light but strong, making it a perfect choice when looking for durability. The downside is that people who are allergic to any type of metal or have an autoimmune disease may not be good candidates for titanium implants.
Zirconia: Unlike titanium implants which require three separate pieces, the zirconia implant is a one-piece, metal-free material. This means zirconia implants are a lot quicker to place than titanium implants. On top of that, due to zirconia implants metal-free material, there is absolutely no chance of them agitating a metal allergy. Though one thing to keep in mind is that since zirconia implants are still fairly new, there is not much evidence that supports their long-lasting capabilities. However, our team of doctors at Dental Laser believe they show great promise and are confident that they will be able to withstand as many years as titanium implants.
Different Brands Of Dental Implants
At Dental Laser, we use two different brands of dental implants. Straumann and Hiossen. We believe our patients should have options when choosing what works best for them. For this reason we offer Straumann as our highest quality option and Hiossen for those looking to save some money while still receiving an incredibly high quality implant. No matter which one you choose, you will still be selecting one of the top brands the world has to offer. Continue reading to explore the differences in both brands.

Straumann
Based on popularity, Straumann is the world's leading dental implant brand. Founded in 1954 and continuing to be at the forefront of innovative technologies, this company cooperates with various research institutes and universities so they are always ahead of the game when it comes to future advancements. The surface of Straumann's implants melds and integrates with your bone within 30 days, making it an exceptional product.

Hiossen
Hiossen is among the world's leading brands for dental implants. Just this last year, in 2020, they became the sixth-leading competitor in the dental implant market. They supply a wide range of top of the line implants in order to meet the needs of our medical specialists as well as our patients. This means that there will always be an implant that will suit your needs.
Positioning Method
Endosteal Implant Positioning Method
This implant positioning method is the most common because it's inserted directly into the jawbone. In order for this to be a successful procedure, the implant must enter an area with a good amount of bone, so people with poor bone composition would need a graft before moving forward.
Post Surgery And Recovery
Some of the Symptoms After Surgery Are:
Discomfort around and in place where the implant was placed
Slight discomfort of the sutures
Occasional inflammation, bruises may appear
Care and Recommendations
NO SMOKING to avoid infections
Do not consume alcoholic beverages
It is recommended to avoid any intense physical activity
Avoid exposure to sun radiation
Eat healthy such as avoiding the consumption of fats and condiments
Full Rest