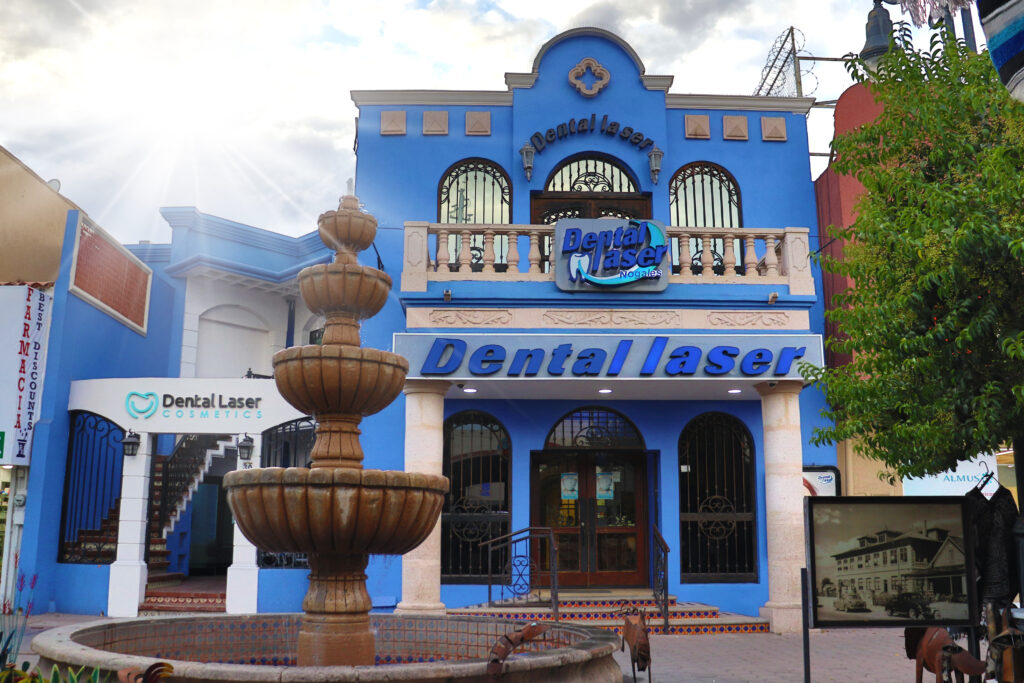 5 Reasons To Consider Dental Laser Nogales For Dental Implants In Mexico
We are Dental Laser Nogales and we are Southern Arizona's number one provider for higher quality, more affordable dental implants. At our premiere practice, you'll receive nothing but the best in implant materials as well as technology. We are so confident in our professional team of implant specialists that we offer a lifetime guarantee and 100% satisfaction on every implant we place. Read more to see why we are your best option when choosing the best dental implants in Nogales, Mexico.
1. We're Only A Few Steps From The Border
You will see our iconic blue building as soon as you cross the Nogales International Border. One of the most convenient things about our dental practice is our location. You honestly can't miss us. Just look for the big blue building that's right in front of a large, beautiful fountain.
2. Lifetime Guarantee With A 100% Satisfaction
We are confident in our abilities as a dental practice and want you to have a peace of mind when setting an appointment for dental implants. That is why we offer all of our patients a lifetime guarantee as well as a 100% satisfaction when they get their dental implants done with us. Not many dental practices can offer such an amazing satisfaction guarantee but we are not like most dental practices. We are constantly investing into our top three fundamental principles that make us who we are.
Advanced Dental Technology
Quality Materials
Experienced Dentists.
By focusing on these three very important aspects, we are able to drastically reduce any complications some may experience at another dental practice. With our very own state-of-the-art laboratory, high-end materials and veteran specialists, we are able to outperform our competition and place successful implants time and time again without error. Here at Dental Laser Nogales, we can confidently provide you the level of dental care you would receive at a world-class dental facility.
3. Better Technology = Less Discomforts
The discomforts of many dental procedures have become a thing of the past here at Dental Laser Nogales. We are always investing in the latest and greatest dental technology because we don't hold back when it comes to staying ahead of the curve. We have learned that by constantly investing in our tools, we can make things a lot easier for our specialists as well as far more pleasant for our patients. Our mission is to always offer the best possible quality while still competing to match the prices of regular dental clinics who do not meet our level of equipment.
4. The Most Dental Specialists In A Single Dental Practice
We have an incredible, unmatched team of high-end specialists that can take care of any dental case, no matter how complex it may be. So smile, because our specialists can tackle any challenge they face. Many of our doctors have been practicing for over 20 years and have quite the extensive experience in dentistry. Whether it's a simple set of braces or a rare disease, we have the best dentists in Nogales, Mexico and they're working with the most advanced technology there is. So no matter what it is you need, you can rest assured that we have you covered.
5. We Only Work With Quality Materials & Brands
At Dental Laser, we use two different brands of dental implants. Straumann and Hiossen. We believe our patients should have options when choosing what works best for them. For this reason we offer Straumann as our highest quality option and Hiossen for those looking to save some money while still receiving an incredibly high quality implant. No matter which one you choose, you will still be selecting one of the top brands the world has to offer.
Here Are Some Helpful Links In Case You Would Like To Learn More About The Dental Implants We Offer At Dental Laser Nogales